13
Feb
2012
Joshua (Program #2)
|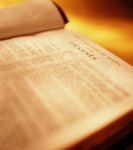 Joshua (Program #2) – God's Commission
Whenever we look at history, we should be able to see the hidden history within history. Because the history of mankind is actually the history of God in His move to accomplish His eternal purpose. He created man for this purpose. And from that day unto the present day God has moved in, through and with man. First to redeem and then to from His redeemed into His corporate counterpart, the Church.
The Old Testament prophet, Ezekiel describes this move as the move of a great wheel turning upon the earth as God moves ever closer to His ultimate goal. Even as we read the history of His people, Israel we need to see this move. As we come again today not just to the book of Ezekiel but specifically to the book of Joshua where we see His move as we're about ready to take a major advance.
This is a marvellous portion in the book of Joshua concerning God's move on this earth to carry out His economy and how we as God's people can be one with Him and coordinate with Him to accomplish His eternal purpose.
Standard Podcast
[ 26:00 ]
Play in Popup