29
May
2018
1 Corinthians (Program #50)
|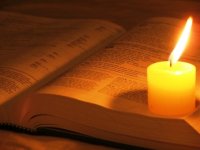 1 Corinthians (Program #50) – Dealing with the Gifts (6)
Two chapters in 1 Corinthians deals specifically with the matter of the gifts, chapter twelve and thirteen. Though there is similarities between these two chapters there is a significant change in focus or emphasis. Eighteen times in the chapter twelve Paul uses the term, "the Body" referring of course to the Body of Christ.
But in chapter fourteen, we never hear the Body. Rather in this chapter the emphasis was the church and specifically is the building up of the church. Listen to the shift that takes place in  these few verses.
12:12 "For even as the body is one and has many members, yet all the members of the body, being many, are one body, so also is the Christ."
12:27-28  "Now you are the Body of Christ, and members individually. And God has placed some in the church: first apostles, second prophets, third teachers; then works of power, then gifts of healing, helps, administrations, various kinds of tongues."
Is this just Paul used of idol synonyms? Or is this divine? Or is this the divine wisdom manifest once again for our further instruction?

Podcast: Play in new window | Download