21
May
2019
Hebrews (Program #41)
|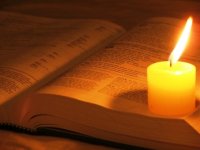 Hebrews (Program #41) – The New Covenant and the New Testament
Today we focus on the new covenant and the New Testament. One of the most remarkable revelations in the book of Hebrews.
Anyone familiar with the Bible knows that it is comprised of an Old and New Testament. But have we ever considered just what is a "testament" and how does it pertain to us?
Our message today is titled "The New Covenant and the New Testament". Are these two terms synonyms? Testament and covenant even as these words are used in our translation of Hebrews are the same word in Greek. So, why do we translate the word "covenant" here and "testament" there? It's because "covenant" and "testament" are to a certain extent synonymous but in a very significant way different.

Podcast: Play in new window | Download