Archive for April 2nd, 2020
02
Apr
2020
Ruth (Program #5)
|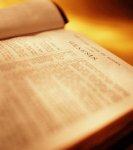 Ruth (Program #5) – Boaz and Ruth Typifying Christ and the Church
Romans 7:1-4 say,
1 Or are you ignorant, brothers (for I speak to those who know the law), that the law lords it over the man as long as he lives?
2 For the married woman is bound by the law to her husband while he is living; but if the husband dies, she is discharged from the law regarding the husband.
3 So then if, while the husband is living, she is joined to another man, she will be called an adulteress; but if the husband dies, she is free from the law, so that she is not an adulteress, though she is joined to another man.
4 So then, my brothers, you also a have been made dead to the law through the body of Christ so that you might be joined to another, to Him who has been raised from the dead, that we might bear fruit to God.
This is the New Testament truth and now in the book of Ruth we are going to see an Old Testament picture that it helps us to explain what is the real meaning of these verses who is the old husband and who is the new husband and how is that we who are believers in Christ had been freed from any obligation to our old husband so that we can be joined to Christ our new husband and bear fruit for the fulfillment of God's purpose.

Podcast: Play in new window | Download