01
Mar
2021
1 Corinthians (Program #37)
|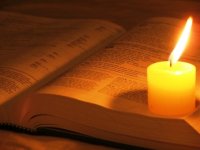 1 Corinthians (Program #37) – Dealing with Eating of Sacrifices to Idols (2)
Paul's way of writing in 1 Corinthians chapter 9 indicates that the church in Corinth had doubts and questions about him and about his apostleship. Why else would he opened the chapter in such a bold way?
"Am I not free? Am I not an apostle? Have I not seen Jesus our Lord? Are you not my work in the Lord?  If to others I am not an apostle, yet surely I am to you; for you in the Lord are the seal of my apostleship. My defense to those who examine me is this."
Here is a striking account of the apostle commission with the majority of the New Testament revelation forced to make a bold defense of his own apostleship. But in so doing much was reveal about the Corinthians that were doubting him and much is revealed about us as well.

Podcast: Play in new window | Download