05
Apr
2021
2 Corinthians (Program #17)
|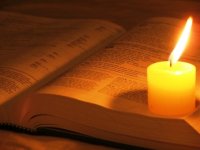 2 Corinthians (Program #17) – Attached, Anointed, Sealed, Captured, Subdued, and Led to Scatter the Incense of Christ
In one short passage in 2 Corinthians chapter two, the apostle Paul uses two striking metaphors that give us a marvelous insight into his understanding of the Christina life, his service to the Lord and what it means to be a pattern to the believers.
14 "But thanks be to God, who always leads us in triumph in the Christ and manifests the savor of the knowledge of Him through us in every place."
15 "For we are a fragrance of Christ to God in those who are being saved and in those who are perishing:"
The first metaphor that of a possession, of captured folks. We, who were previously God's enemy are been captured and subdued by Him and now are following His victorious possession willingly.
The second metaphor is that of incense bearer, those who accompany such a possession, scattering the sweat fragrance of Christ. A fragrance that affects all who come in contact with it. May we all be such one, captured, subdued and led by Him and now those who even scatter His very fragrance.

Podcast: Play in new window | Download