11
Apr
2021
2 Corinthians (Program #23)
|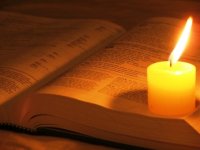 2 Corinthians (Program #23) – Transformed into the Image of the Lord by Beholding and Reflecting (2)
There are many marvelous word pictures or metaphors in the Bible. Without which the task of comprehending many of the deeper truths and thoughts of scriptures would be difficult indeed. But most of those whom were used by the Holy Spirit to bring God's divine revelation to man were very adapt at the used of such metaphors and for those of us who love the Bible, the riches that it contains. We come to love the types and shadows and metaphors as well.
2 Corinthians, Paul's autobiography in a sense is a book that is replead with such metaphors. And as we've seen in chapter 3 are among the most significant.
Listen once again to Paul's word again in 2 Corinthians 3:
16 "But whenever their heart turns to the Lord, the veil is taken away."
17 "And the Lord is the Spirit; and where the Spirit of the Lord is, there is freedom."
18 "But we all with unveiled face, beholding and reflecting like a mirror the glory of the Lord, are being transformed into the same image from glory to glory, even as from the Lord Spirit."
Just how is it that we can be transformed as spoken of in these verses?

Podcast: Play in new window | Download