12
Apr
2021
2 Corinthians (Program #24)
|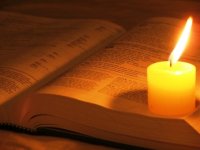 2 Corinthians (Program #24) – The Essence of the New Covenant Ministry (1)
The apostle Paul's writings in the New Testament are rich with the use of metaphors. He frequently used metaphors to help convey the deep and profound meaning of the highest spiritual truths contain in scriptures.
Two such metaphors are found in 2 Corinthians chapter 3. In this chapter we, the believers are first liken to letters, letters of Christ been written or inscribed by the apostles with the Holy Spirit as the ink. How about that?
Later in chapter 3 we become mirrors that both behold and reflect the glory of the Lord. Metaphors like these inspired by the Spirit Himself do help unlock the unsearchable riches of Christ both in our experience and in the working out of God's great plan, a full salvation.

Podcast: Play in new window | Download