16
Nov
2020
Romans (Program #3)
|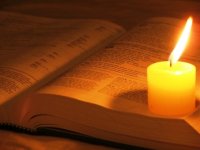 Romans (Program #3) – The Gospel of God
Through His incarnation, the Triune God became a man, Jesus Christ, to be among us. Through His death and resurrection, He became the life-giving Spirit to be within us.
Our life study today brings us to Romans chapter 2.  Romans is a gospel because Paul calls it that.  What does he mean by this?  If Romans is a gospel, how is it differ from the four traditional gospels?
In addition to the first four books of the New Testament, we can consider the book of Romans as a gospel. In Romans chapter 1, this is mentioned at least four times : "the gospel of God" (v.1), "the gospel of His Son" (v.9); in verse 15, Paul says he is ready to preach the gospel, and in verse 16, he says he's not ashamed of the gospel, which is the power of God. The gospel in the first four books was concerning Christ in the flesh, before his death and resurrection; the gospel in Romans is concerning Christ as the Spirit, after His resurrection. In the first four gospels, He is among His disciples; in the gospel in Romans, He is the Spirit within His believers. This is the main difference between the gospels Matthew, Mark, Luke, and John, and the gospel of Romans.

Podcast: Play in new window | Download