20
Dec
2017
Leviticus (Program #25)
|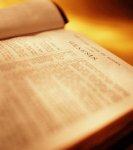 Leviticus (Program #25) – A Concluding Word on the Offerings and the Priesthood
Hebrews is a marvelous New Testament book that contains many passages that are well-known and often quoted by Christians. Yet the book as a whole remains a mystery to a great many believers. The key to understanding Hebrews may well be found in the Old Testament book of Leviticus. As we will see today that the book of Hebrews is an exposition of Leviticus.
In Hebrews 9:11-14 says "But Christ … not through the blood of goats and calves but through His own blood, entered once for all into the Holy of Holies, obtaining an eternal redemption/ For if the blood of goats and bulls and the ashes of a heifer sprinkling those who are defiled sanctify to the purity of the flesh/ How much more will the blood of Christ, who through the eternal Spirit offered Himself without blemish to God, purify our conscience from dead works to serve the living God?"
If we were just left with the book of Leviticus, we would certainly be stuck with a lot of physical animals, offerings, combination of food and things like these – very mysterious and we will not know how to apply them. This is true about the Bible as a whole – so much of it we just can't understand but there is a way for it to be opened up to us. The writers of the New Testament opened up the books of the Old Testament to us in a very wonderful way, particularly this book of Hebrews really gives us a lot of light on Leviticus about goats and calves and rams and the different offerings; the meal offerings all of these offerings are explained to us and made real to us.  They are not just things of history, although they are that in Leviticus.  Yet the New Testament explanation of those things makes it real to us in our Christian life.  That's really the key to study the Bible; let the Bible interpret the Bible.  The best exposition of Leviticus is really the New Testament book of Hebrew.

Podcast: Play in new window | Download