02
Dec
2018
Philippians (Program #13)
|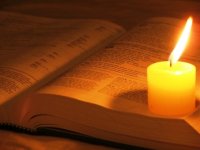 Philippians (Program #13) – Holding Forth Christ
In Philippians 2:14 the apostle Paul says "do all things without murmurings and reasonings."  This is a very small verse that many of us pass over or may be even take for granted. In today's life study from the book of Philippians,  we are going to focus how it affects our obedience to work out our salvation to live Christ, to express Christ and to hold forth Christ.
Murmurings and reasonings that are mentioned in this verse are a big problem and frustrated our Christian life. These are two little annoying things always troubling us in our daily life to undermine the real experience and enjoyment of the Lord.  Many of us probably take not only this verse for granted but we probably take our murmuring and reasoning for granted.  We just consider this as normal path of our daily experience, but actually these are the main items that the apostle Paul is laboring not just to deliver the Philippians that we ourselves would be saved from these things.
In our past programs in this book, we've seen that it's our cooperation with the operation of the indwelling God that's saving us subjectively so that we can be one with Christ who is truly an expression of the pattern that we see in verses 5 through 9 in chapter 2. One key thing that's seen in that pattern is the Lord's willingness to obey. In this portion we want to see how important the matter of obedience is.

Podcast: Play in new window | Download