02
Jul
2019
Exodus (Program #23)
|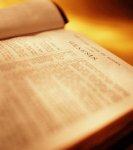 Exodus (Program #23) – The Passover (1)
Nearly all Christians know that Christ is the Lamb of God, who accomplished redemption for us.  John 1:29 says "the next day he saw Jesus coming to him and said Behold, the Lamb of God, who takes away the sin of the world.  Though most of us may be familiar with Christ as the Lamb of God, we may not have seen all the rich and deep aspects presented in the details of His redemption. This picture is presented in Exodus chapter 12 and it is these details that will be our focus today, for in them are the deep and marvelous facet of this most blessed event.
We have the first of the two tremendous programs dealing with the passover in Egypt as a type of the redemption of Christ.
The New Testament speaks about redemption, where about Christ is our redeemer in many passages.  But this picture in Exodus 12 is marvelously complete and comprehensive.   Why is the passover depicted in Exodus such a good picture of redemption?

Podcast: Play in new window | Download