29
Aug
2019
Exodus (Program #81)
|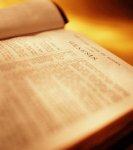 Exodus (Program #81) – The Vision of the Tabernacle and Its Furniture and Concerning the Materials and the Pattern (1)
Chapter 25 of Exodus brings in a major turn of Old Testament Economy.  After giving Moses the 10 commandments and the addition ordinances on Mt. Sinai, God reveals the plan for the building of the tabernacle, God's dwelling place among men. This building occupies the central focus in the history of God's people in the Old Testament. But it also has tremendous significance and importance for us, God's New Testament people today.
Our main topic for the next several months is going to be the tabernacle.
We made quite a journey from chapter 1 to chapter 24, we saw how the children of Israel were in slavery in Egypt under Pharaoh. God prepared and called Mosses to be the sent ones to deliver them, there was the passover, the Exodus, the crossing of the Red Sea then there was the experience with the bitter water at Marah, the water becoming sweet through the application of the crucified Christ in resurrection. Then we have Elim with the 12 springs and the 70 palm trees.  We had the change diet with eating the Manna, the war with Amalek, the establishment of the kingdom and eventually God's people was brought to the mountain of God. Where we saw the day and night aspects of the giving of the law. This may be a new way of referring to it and the hearing of some. But the day aspect means, the positive aspect function of the law as a revelation of God Himself. And the giving of the law is actually the enactment of an engagement covenant between God and His people. The night side is the dark or threatening side that comes in because God's people do not know themselves and need the law to expose them, therefore to preserve them and keep them. We also saw that Moses went up to the very top of the mountain to be in the glorious presence of God to behold the Lord to be infused with the Lord and we saw that we can be in various degrees of fellowship with the Lord. With Moses at the mountain top in the glory receiving the divine speaking and now we will see he not only receives the law and he not only receives and an infusing of God's element but now God opens His heart and shows us this through this marvelous revelation that the desire of His heart is to have a tabernacle, His dwelling place, with and through His redeem people.
As we get into the second half of Exodus, the matter of the tabernacle, the speaking are going to center very much around types and symbols in the building of the tabernacle.

Podcast: Play in new window | Download