15
Feb
2020
Deuteronomy (Program #4)
|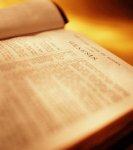 Deuteronomy (Program #4) – A Review of the Past (1)
Deuteronomy is a wonderful yet little known book in the Bible. It begins with Moses reviewing the 40 years history of the children of Israel as they wondered in the wilderness deal to their flesh and unbelieving hearts.  God used this long period, first to consumed that unbelieving generation but also to review three persons in a detail way.
Today we come to Deuteronomy to see God manifested, man exposed and Christ unveiled and presented. Hallelujah for this ministry.
In the Bible , it's easy to see God, all of the miraculous events and creation and demonstration of His power and majesty and in passages like this one where the failures of God's people are exposed again and again. We also get a very clear picture of what mankind is like in general and what we ourselves are like personally. But to see Christ in the Bible especially in the Old Testament in the book like Deuteronomy is not so easy.
But thank the Lord again for this ministry bringing us to Christ as the all inclusive One signify by the good land and also Christ as the word of God to supply us enable us to win and possess Him as the good land. So, Christ is both the goal and Christ Himself is also the way. Just as He said, I am the way, the reality and the life.  So, our Christ is the goal and our Christ is the way, what a Christ we have in Deuteronomy.
We have Him as the goal and the way. That's an interesting composition.  We want to see how we open the program today and that is to say that In the Bible primarily these three are seen God, man and Christ. And that also is what we see in Deuteronomy which see as an extract or abstract of the whole Bible.

Podcast: Play in new window | Download