13
Mar
2020
Joshua (Program #6)
|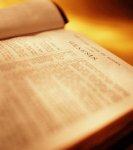 Joshua (Program #6) – Taking Possession of the Good Land
Listen to the Lord's word to Joshua, in Joshua chapter 1, "Moses My servant is dead; now then arise, and cross over this Jordan, you and all this people, into the land which I am giving to them, to the children of Israel. Every place on which the sole of your foot treads I have given to you, as I promised Moses…Be strong and take courage, for you will cause this people to inherit the land which I swore to their fathers to give to them.
This was the Lord's strong word to Joshua, the one God had chosen to replace Moses and lead the children of Israel, not just into the land but also to possess it, to occupy it, labor on it and gain their full sustenance from it.  Actually if our eyes are opened today, we can realize that God is speaking a similar word to us, as His New Testament people, for He had placed Christ before us and has prepared everything that we might enter into Him and to posses Him, as the children of Israel were to possess the good land.
Listen now to Paul's word in the New Testament Philippians chapter 3:8 "But moreover I also count all things to be loss on account of the excellency of the knowledge of Christ Jesus my Lord, on account of whom I have suffered the loss of all things and count them as refuse that I may gain Christ."
The children of Israel were about to gain the good land and we are exhorted by Paul to gain Christ. A real interesting parallel.

Podcast: Play in new window | Download