05
Jan
2019
Micah (Program #2)
|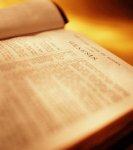 Micah (Program #2) – Jehovah's Comfort to Israel
The Prophet Micah in the Old Testament speaks of God's reprove and chastisement of Israel in a very poetic language.
Chapter 1:3-4 "For Jehovah is about to come forth from His place, And He will come down and tread upon the high places of the earth. And the mountains will be melted under Him, And the valleys will be cleft, Like wax before fire, Like water poured down a slope."
These sobering words caused Micah to weep but as with other prophets Micah also speaks of God's comforting of His people.  Which ultimately comes at the end of this age in what the prophets of all spoke as the restoration. A coming age when there will be no need of weapons for all the enemies will be gone and Christ will rule, shepherd and protect His people while His people feast and rejoice in loving worship of Him for a thousand years.

Podcast: Play in new window | Download