12
Feb
2019
1 Thessalonians (Program #1)
|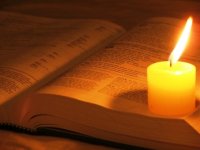 1 Thessalonians (Program #1) – Introduction to a Holy Life for the Church Life
The apostle Paul's two letters to the Church in Thessalonica may be considered his earliest writings. They are also significant in that they represent his fellowship to new believers, for the church in Thessalonica was made up almost exclusively of young people whom Paul personally preached the gospel to less than a year before he wrote this letter.
Acts chapter 16 gives us the account of how the Church in Thessalonica came into being.  In chapter 16 of Acts beginning in verse 9.  "And a vision appeared to Paul during the night: A certain man, a Macedonian, was standing and entreating him and saying, come over into Macedonia and help us.  And when he had seen the vision, we immediately endeavored to go forth into Macedonia, concluding that God had called us to announce the gospel to them."
And now jumping to chapter 17, "And they traveled through Amphipolis and Apollonia and came to Thessalonica, where there was a synagogue of the Jews.  And according to his custom Paul went in to them, and on three Sabbaths he reasoned with them from the Scriptures, opening and setting before them that the Christ had to suffer and rise from the dead, and saying, this is the Christ, the Jesus whom I announce to you. And some of them were persuaded and were joined to Paul and Silas, as well as a great multitude of the devout Greeks, and of the chief women not a few."  So, a Church was born.

Podcast: Play in new window | Download