28
Feb
2021
1 Corinthians (Program #36)
|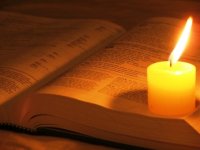 1 Corinthians (Program #36) – Dealing with Eating of Sacrifices to Idols (1)
After opening the book of 1 Corinthians in a very spiritual way, the apostle Paul then turned his attention to several practical matters in the middle chapters.
Chapter 7 for instance deals with marriage. Chapter eight with eating, our diet. These are some of the most basic and practical of all human items. Yet as he begins this fellowship on eating in chapter 8 he inserts a very wonderful and very spiritual phrase. Listen to the first verse of chapter
8:1 "Now concerning things sacrificed to idols, we know that we all have knowledge. knowledge puffs up, but love builds up."
Building up, a theme that runs through out this book. And a very important theme for all of us God's people to understand.

Podcast: Play in new window | Download