22
Feb
2019
1 Thessalonians (Program #11)
|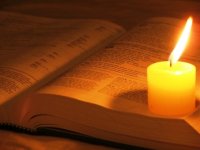 1 Thessalonians (Program #11) – Encouragement for Faith, Love, and Hope
When the apostle Paul first passed through Thessalonica and established the Church there, he set the young and new believers on a solid footing not just preaching the gospel to them but also anchoring them in the three strong elements of their life in Christ, faith, love and hope.
Chapter 1:3, "Remembering unceasingly your work of faith and labor of love and endurance of hope in our Lord Jesus Christ, before our God and Father;"
Then some months later, Paul found himself excessively burden to see how the young Church in Thessalonica was progressing. So much so he can bear it no longer, so he sent his faithful co-worker, Timothy to help foster their faith and encourage them.  Chapter 3:1-2, "Therefore when we could bear it no longer….. we sent Timothy, our brother and God's fellow worker in the gospel of Christ, to establish and encourage you for the sake of your faith."
These are precious words. We want to have a chance to really look into the heart of the apostle and the lives and the experiences of these young believers in Thessalonica.

Podcast: Play in new window | Download