30
Apr
2021
Genesis (Program #55)
|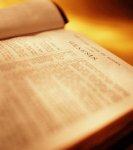 Genesis (Program #55) – The Seed and the Land (1)
Today we are going to come to chapter 15 of Genesis and a life study entitled "The Seed and the Land" for the fulfillment of God's purpose. Related to God's purpose, two promises were given concerning the seed and the land.
The promises that the Lord gave Abraham in His calling him, was not just really some things. In the Old Testament He mentioned the seed and the land, but as we see in this message we will see the intrinsic promise was that He will give Abraham and a seed, Himself. We have been called to enjoy Christ as a seed and Christ as the land. Both the seed and the land are just Christ.
It is quite something to see that these are just Christ Himself and not just something from Him or even about Him.

Podcast: Play in new window | Download