07
Jul
2018
2 Corinthians (Program #34)
|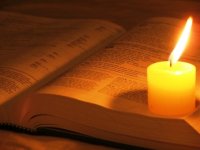 2 Corinthians (Program #34) – A New Creation in Christ Becoming God's Righteousness (1)
By the end of chapter 4 in 2 Corinthians the apostle Paul was very matured in the Christian life. His being has been largely transformed to the extend that regardless of his outward circumstances he remained in the peace and rest of the Lord's presence. Realizing that through the Spirit within him God was working through all things to form him and shape him according to His eternal plan.
Listen to his testimony in verse 16 and 17,  "Therefore we do not lose heart; but though our outer man is decaying, yet our inner man is being renewed day by day. For our momentary lightness of affliction works out for us, more and more surpassingly, an eternal weight of glory,"
Surely this is the testimony of one who is longing to meet the Lord. Yet one thing remain in Paul's spiritual journey is, as we will see in 2 Corinthians chapter 5, his longing to have his earthly body or tabernacle replaced with a heavenly one.

Podcast: Play in new window | Download