08
Jul
2019
1 Peter (Program #9)
|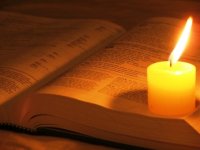 1 Peter (Program #9) -The Full Salvation of the Triune God and Its Issues (7)
In chapter one of his epistle Peter contrasts our former way of living or literally our manner of life which was vain with our present manner of life, we should be holy. Vain of course means empty, without meaning.
Well, all of us must surely confess that our life before we were regenerated were categorized by sin. But Peter points out that even more our life were vain, empty and without purpose. Yet we had been called to a holy manner of life.
14: "..Do not be fashioned," Peter writes, "according to the former lusts in your ignorance;"
15 "But according to the Holy One who called you, you yourselves also be holy in all your manner of life;"
How can we have such a living, such a manner of life that becomes holy? Peter's further word in this chapter becomes a very great help to us.

Podcast: Play in new window | Download