01
May
2018
1 Corinthians (Program #22)
|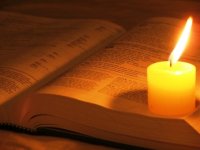 1 Corinthians (Program #22) – Feeding, Drinking, Eating, Planting, Watering, Growing
The believers in the church of Corinth that Paul was writing to in 1 Corinthians had a number of problems. But not just problems that could be remedy by giving them advice or spiritual counsel. The apostle spoke to them in a very strong way in chapter three telling them that they are infants, fleshy and even fleshly. These are symptoms of a very poor spiritual condition.
But after such a sober word he proceeds to show them the way out of such spiritual poverty not by teaching them but by giving them many marvelous expressions all pointing them to their real lack which was to eat and drink of Christ and to become planters, feeders and waterers in the Body of Christ.
1 Corinthians 3:2 & 6, "I gave you milk to drink, not solid food, for you were not yet able to receive it. ….. I planted, Apollos watered, but God caused the growth. "
We can't have too much eating, drinking, enjoying of our dear Lord Jesus.

Podcast: Play in new window | Download