19
Jan
2021
Romans (Program #67)
|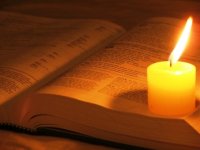 Romans (Program #67) – God Condemning Sin in the Flesh
The Spirit of life, the life-giving Spirit in my spirit is the remedy for the subjective condemnation we all experienced.
In Romans chapter 3 we clearly saw that God's condemnation falls upon all man but in Christ we absolutely set free from that condemnation by the shed blood of Christ. But what about the inner, self condemnation? How are we free from that?
Today we got a marvelous, marvelous word before us.  We touched this topic some weeks back in Romans 8, the first time through.  We are coming back today with some very fresh speaking and insights from Witness Lee.   What we mean by two kinds of condemnation?

Podcast: Play in new window | Download