25
Mar
2020
Mark (Program #42)
|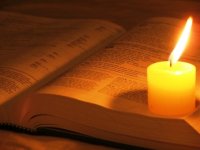 Mark (Program #42) – The Death and Resurrection of the Slave-Savior for the Accomplishment of God's Redemption (4)
As Jesus was hanging there on the cross for six agonizing hours bearing the reproach of man and the judgment of God, He did so as a genuine man. Yes, He was unique among all mankind in that He was without sin even of Himself, but His humanity was the same as ours in every other way.
Yet at the same time He was also God and despite the fact that for the final three hours of His suffering, God as the economical Spirit had to forsake Him, while He took upon Himself the sins and transgressions of every man.
Yet intrinsically and essentially He was and still is God.  This is Christ Jesus, the Lord our Savior. The immortal Who put on mortality.  And this mysterious and marvelous God Man died a death that accomplish what no other death could ever accomplished.
His death accomplish far more than just the forgiveness of sins as we will see today. And in addition to dealing with all the negative things, His death also release the divine life to create the New Man, the New Creation and ultimately to bring in the kingdom of God.

Podcast: Play in new window | Download