16
Feb
2020
Deuteronomy (Program #5)
|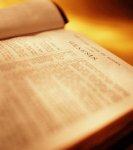 Deuteronomy (Program #5) -A Review of the Past (1)
Deuteronomy begins with Moses reviewing 40 years of history to the assembled children of Israel. Kadesh-barnea is at the gate of Canaan in the very place where they had arrived some 38 years before.
Deut 1: 19 And we set out from Horeb, and we went through all that great and awesome wilderness, which you saw, on the way to the hill country of the Amorites, as Jehovah our God commanded us; and we came to Kadesh-barnea.  Verse 21 "See, Jehovah your God has set the land before you; go up, possess it, as Jehovah the God of your fathers has spoken to you. Do not fear, neither be dismayed"…. "Yet you would not go up. Rather you rebelled against the word of Jehovah your God;"
The unbelief and disobedience that the people showed on that day caused their father to falter and not going to possess the land.  As we see Moses now is preparing a new generation to overcome that past and to be strong to enter in and possess the good land.

Podcast: Play in new window | Download