03
Feb
2018
Romans (Program #6)
|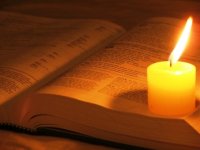 Romans (Program #6) – Justification in God's Way
It's on Christ as our propitiation place that God can dispense Himself as grace into us for His glory, for His expression, and for the manifestation of His righteousness.
Our life-study today brings us to one of the pillars of the Christian faith – justification. Most Christians are aware of the famous doctrine of justification by faith, and Martin Luther was very much used by the Lord to recover this marvelous truth of our faith.
Martin Luther was used by the Lord to recover the great truth of justification by faith in the 16th century. By the time of the 16th century, the church had become fully degraded. If we look in the New Testament, even in the epistles of Paul, especially in his epistles to Timothy, and if we look at Revelation 2 and 3, we can see that by the time the apostles were about to depart this earth, the church was beginning to become degraded. Through the centuries, the church became degraded to such an extent that there was no Bible available to the common man. Secular historians call this period of history, "The Dark Ages". The reason why it was so dark is because there was no Bible! By the 16th century, all the truths that the apostles had passed on to the church had become lost in revelation and in experience. So the Lord began in the 16th century with Martin Luther to recover the foundational truth and the great truth of justification by faith. Luther was teaching at the University of Wittenberg, and he came to this verse, Romans 1:17 which says, "The just shall live by faith". And that was a light beyond the brightness of the Sun that flashed into his being, and he realized, as someone who was a monk in the Catholic church, that he couldn't please God or be approved by God by his penance, by his good works, by his asceticism – he could only please God by faith in the Lord Jesus Christ. This was a great truth that changed the course of human history and we thank the Lord for how He used Martin Luther to recover this great truth.

Podcast: Play in new window | Download