25
Mar
2021
2 Corinthians (Program #6)
|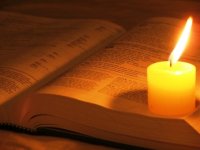 2 Corinthians (Program #6) – The Ministry of the New Covenant (2)
Metaphors play an important role in Scripture. Webster says a metaphor is the use of one set of words to describe or illustrate a similar point.
John uses the technique when he speaks of Jesus approaching him in the gospel. "Behold, the Lamb of God who takes away the sin of the world." Surely he wasn't saying that Jesus was a literal "lamb". But the metaphor or picture gives us a much richer and clearer understanding.
The apostle Paul was also very fond of metaphors, particularly when conveying his deepest thoughts in teachings. We see it used intensively in 2 Corinthians. For example in 2 Corinthians chapter 2:14 he says "But thanks be to God, who always leads us in triumph in the Christ"  Here, the metaphor is the triumphant possession of captured and vanquished folks after a Roman battle. And Paul says that we, the believers had become such vanquished ones in the train of the victorious Christ.
Now, we come to another marvelous metaphor in the very next chapter, chapter 3 of 2 Corinthians begins this way:
1-3 "Are we beginning again to commend ourselves? Or do we need, as some do, letters of commendation to you or from you? You are our letter, inscribed in our hearts, known and read by all men, Since you are being manifested that you are a letter of Christ ministered by us, inscribed not with ink but with the Spirit of the living God; not in tablets of stone but in tablets of hearts of flesh."
Living letters of Christ. This is our topic today.

Podcast: Play in new window | Download