06
Aug
2020
John (Program #52)
|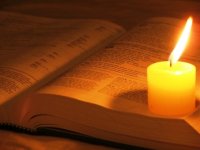 John (Program #52) – Life in Resurrection (3)
The seeking ones among God's people need to know the Lord as life, and they need to experience Christ as life, and they need to study the Bible in the way of life. It is for those seekers that we commend the life study of the Bible. Listen and enjoy Christ as life.
The Gospel of John is simply profound. It's simple. The words, the vocabulary, the expressions appear so simple. In the beginning was the Word. The Word was God. The Word became flesh. But, it's profound also. If you've had the opportunity to follow us through the heart of chapters 14 through 17, you perhaps have some sense of appreciation of the profound depths of the Gospel of John.
The Gospel of John is a Gospel of life and building. We need to really dwell on these two crucial words: life and building. Life is God Himself. Life is Christ. He said "I am the life", "I came that you may have life", and "life is the Spirit." Eternal life is not merely an eternal state of existence in another realm. Eternal life is God dispensed into us. It cannot reasonably be denied that the Gospel of John is the Gospel of eternal life.

Podcast: Play in new window | Download