22
Mar
2020
Judges (Program #1)
|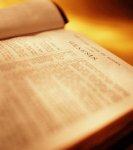 Judges (Program #1) – An Introductory Word
The first chapter of the book of Judges records the marvelous story of Judah and Caleb fighting against the Canaanites after the death of Joshua. Jehovah displayed again that He was with Israel and that they can trust Him to fight with and for them against their enemy. But just as an unfaithful wife forsake her husband thereby damaging their marriage Israel eventually forsook Jehovah.
Listen to Judges 2 : 11-13  "And the children of Israel did what was evil in the sight of Jehovah and served the Baals. And they forsook Jehovah, the God of their fathers, who brought them out from the land of Egypt; and they followed after other gods from among the gods of the peoples who surrounded them; and they worshipped them and provoked Jehovah to anger. And they forsook Jehovah and served Baal and the Ashtaroth. Then the anger of Jehovah burned against Israel, and He delivered them into the hands of plunderers; and they plundered them. And He sold them into the hand of their enemies around them, and they were no longer able to stand before their enemies."
From this point on the book of Judges becomes an ugly history a failure and humiliation for Israel as she turned from the purity and enjoyment of her days as a bride to Jehovah, becoming a harlot in His eyes.

Podcast: Play in new window | Download