11
Feb
2021
Nahum (Program #1)
|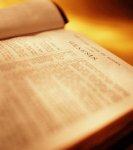 Nahum (Program #1) – Jehovah's Judgment on Nineveh
In the Bible story of Jonah, we probably recall, that he was fleeing, running away from Jehovah and the task that God had appointed to Him. That of bringing God's message of judgment and repentance to the evil city Nineveh.
In the story as Jonah was trying to escape from God, he is thrown into the sea during a raging storm, only to be swallowed up by a giant fish. He remained alive in the belly of the fish for three days until he was spewed out by the fish unto dry land. Well, this is the part of the story that most of us remember and can retell it to our children. But the story continues, for eventually Jonah reached Nineveh, and not only did he proclaimed God's righteous judgment on that evil city, but he also witness first hand Jehovah's mercy and salvation upon the people of Nineveh.
Another book in the Old Testament, another book of the Minor Prophets, is that of Nahum. And once again the subject of the book is the city of Nineveh. Only this time we don't see God's mercy and compassion resulting in the salvation for the city. Rather we see God's righteous indignation and judgment upon Nineveh resulting in the city's ultimate destruction.  What was it about this ancient city that caused it to be the focus and so much attention by the Old Testament prophets?

Podcast: Play in new window | Download