30
Aug
2019
Exodus (Program #82)
|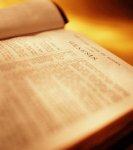 Exodus (Program #82) – The Vision of the Tabernacle and Its Furniture and Concerning the Materials and the Pattern (2)
The Old Testament book of Exodus records the Exodus or exit of God's people out of the bondage and slavery of Egypt. This is a marvelous type of our own salvation from the tyranny of sin and the world. Yet the actual Exodus occupies less than half of the chapter in the book of Exodus. So what is the focus of the rest of the book?
Stay with us today, we will discover far more than just our salvation from our sins and the world.
God's revelation to Moses concerning the building of the tabernacle. This may be a fairly unfamiliar topic to many people. A brief word just what the tabernacle was in the Old Testament.
Actually was the goal of Exodus. This tabernacle was a material building, build out of specially designated materials that God reveal to Moses what to use and how to use it and detail. When you get the picture of the tabernacle as a whole. There is an outer court with a wall around it, not a board wall, nor a stone wall but a cloth wall goes all around the outer court. And at the entrance, that is from the wilderness where the Israelite lived coming into the tabernacle there is an entrance there with a curtain. more…

Podcast: Play in new window | Download