30
Jul
2019
Exodus (Program #51)
|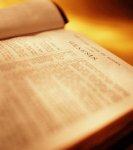 Exodus (Program #51) – The Testimony of God Revealing Him to His People
After miracles to rescue His people and more miracles to feed them and quench their thirst and even more miracles on the field of battle conquering their enemies, God brings His people Israel to a mountain, the mountain of God and here He desires to enter into fellowship with them.  This fellowship began with God giving them not another miracle but giving them His law.  The law, we will find out is something much different than we've ever image.
Today we come to the mountain of God and the ten commandments, as given by God to Moses but interpreted for us by Witness Lee as he gave this message in 1980.  As we began a lengthy look, a six-week long look for those listening to our daily program of the giving and the interpreting of the law of God.   This is a look that's going to be very refreshing for our listeners.
As we look at this peak, of the ministry of Witness Lee and certainly a peak in the Old Testament and even the entire divine revelation, and that is the giving of the ten commandments in chapter 20 of Exodus.  No doubt the common thought or understanding is that God gave the commandments to Moses, to help him regulate and control His people.  But I think we are in for a much different interpretation, even a much higher view of the commandments.

Podcast: Play in new window | Download