03
Mar
2021
1 Corinthians (Program #39)
|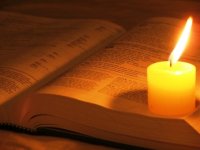 1 Corinthians (Program #39) – The Type of Israel
The Bible contains two histories. The history of Israel in the Old Testament and the history of the church in the New Testament. Actually these two histories are really one story. The history of Israel a type, a shadow while the church is the fulfillment, the reality.
In many of his writings the apostle Paul used the Old Testament as a book of types and pictures to help illustrate the New Testament economy that he was entrusted to preach.
In 1 Corinthians 5 he mentioned the Old Testament passover as our type of New Testament experience of redemption. In chapter 9 and 10 he again picks up the Old Testament to show us a pattern .
First, of our running the race that is our Christians life. Then as a picture of both aspects of our baptism by water and by the Spirit. And finally as a negative pattern regarding the possibility of the genuine, redeemed children of God could ultimately failed to overcome in their Christian life and missed the prize of the reward that is typified by the good land. This is a strong word, a word of warning, which we, like the Corinth believers should heed.

Podcast: Play in new window | Download