08
Mar
2021
1 Corinthians (Program #44)
|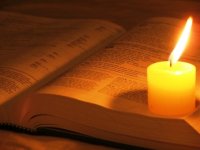 1 Corinthians (Program #44) – Dealing with the Lord's Supper
In 1 Corinthians chapter ten, the apostle Paul first addresses the matter of the Lord's table.
10:16-17 "The cup of blessing which we bless, is it not the fellowship of the blood of Christ? The bread which we break, is it not the fellowship of the body of Christ?  Seeing that there is one bread, we who are many are one Body; for we all partake of the one bread."
But then he moves quickly onto to talk a length about the matter of head covering at the beginning of chapter eleven. Heading covering that is a sign we, the believers are in absolute subjection to the unique headship of Christ. But following this he returns again to the Lord's table in chapter eleven where he calls it the Lord's supper and we see it developed in a marvelous and thorough way.
Why then he inserted this fellowship regarding head covering in the midst of his lengthily word regarding the Lord's table?

Podcast: Play in new window | Download