12
Dec
2020
Romans (Program #29)
|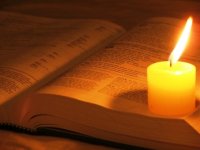 Romans (Program #29) – Transformation in Receiving the Believers (1)
Our eternal salvation is by faith through faith.  Once we have been born of God, we can never be unborn and lose our status as regenerated ones.  But there is a matter of reward and/or discipline.
The book of Romans has been called the fifth gospel or the gospel of God.  At its consummation, it beautifully depicts the tender and intimate church life that satisfy both God and man.
The book of Romans as we have been seeing, is divided into 5 basic sections of justification, sanctification, glorification plus selection and then one other.  If we look just casually, it may not seen to fit that this final section concludes with several non doctrinal chapters dealing with the church life.

Podcast: Play in new window | Download