23
Aug
2019
1 John (Program #16)
|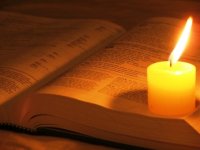 1 John (Program #16) – Conditions of the Divine Fellowship (9)
John first epistle as a continuation of his gospel stresses the eternal life. And specifically the fellowship or flow of this divine life that is available for all of us as His children to experience.
But though our salvation is unconditional there are conditions for us to stay in the fellowship of life experimentally. The first of this condition is found in chapter one and this is a basic requirement for every believer to maintain their enjoyment of Christ as life.
1 John 1:7, 9
7 "But if we walk in the light as He 1is in the light, we have fellowship with one another, and the blood of Jesus His Son cleanses us from every sin."
9 "If we confess our sins, He is faithful and righteous to forgive us our sins and cleanse us from all unrighteousness."
Keeping sure account by confessing our sins before God is vitally important. But John brings us another important condition for maintaining the fellowship of life and that is to love the brothers.

Podcast: Play in new window | Download